After successfully producing my first stainless steel burr style interlocking puzzle the Dirty Dozen, I was eager to try out another interlocking design in metal. And I got my inspiration from the wonderfully beautiful puzzle sculptures of Miguel Berrocal. And what incredible works of art they are.
A while back, I had designed a 3D Skull using Burr Tools. I planned to use this design but there was only one (major) problem; I could only fabricate the steel pieces by laser cutting. Which meant that I could only cut on flat sheets of steel, not in 3D shapes like those done by CNC machining. Given this limitation, I had to re-design my Skull entirely.
After a week or so of designing on and off, my ninth revision resulted in my "final" design. With the help of my friend and fellow puzzler Rex Perez who created the design in DWG format, I was ready to have Skull fabricated. The plan was to use 5mm thick 304 stainless steel like the Dirty Dozen. Completed and assembled, the puzzle would measure about 55mm x 35mm x 30mm. I took the opportunity to try out two other metal cutting vendors instead of the one who did the cutting for my Dirty Dozen. Files were emailed and payments made. A week later I received 25 loose pieces from each of the vendors.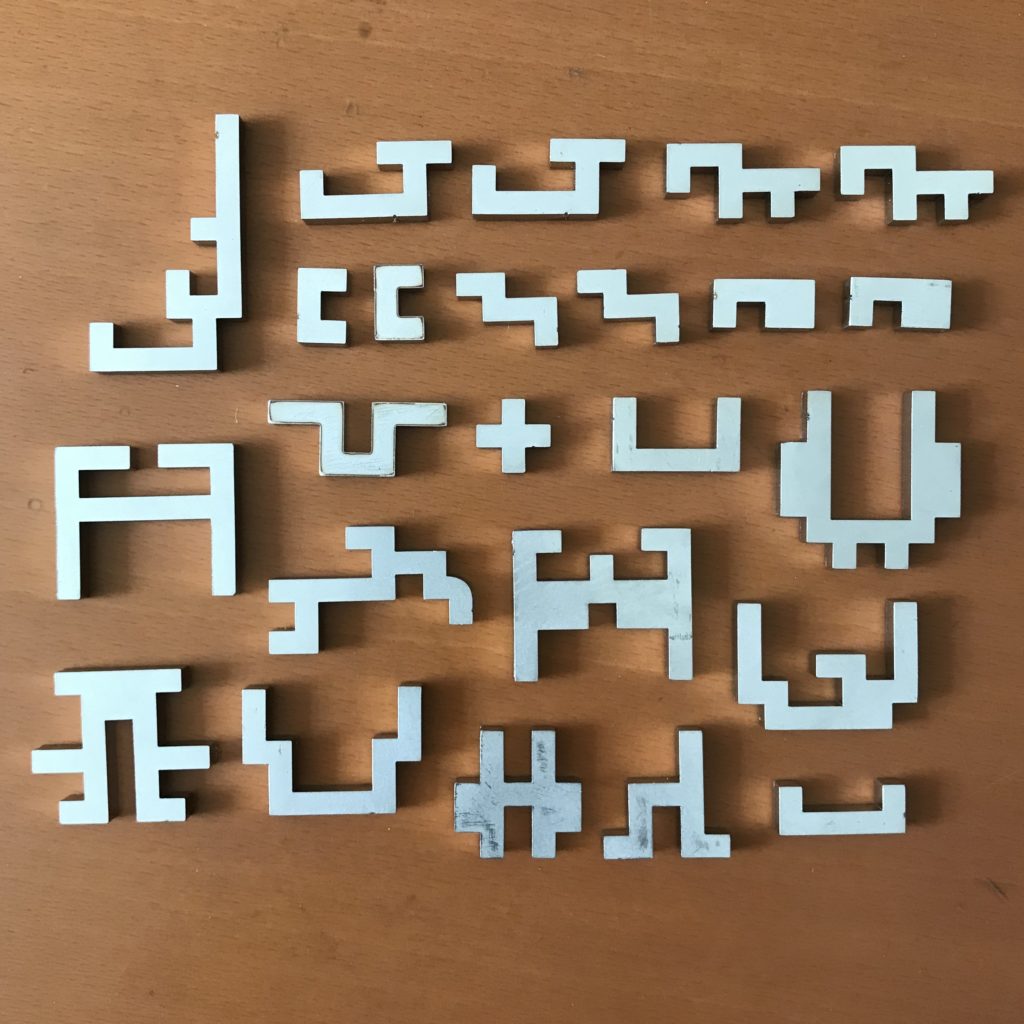 The 3-unit locking piece that goes right through and into the top of the skull

Skull with shaky bones
The first prototype from Vendor A was a dismal "failure". The tolerance was so tight that the pieces could not fit at all. I could use a small file to sand down the pieces, but too much work. Wasted effort and money. The second Vendor B's work is what you see here. All 25 pieces fit nicely, but with a bit too much free play between the pieces. A lot of shaking and rattling! Rex commented that the power output of the laser may have been too high. Thus "burning" away too much metal, making the notches and grooves bigger than intended. But at least when assembled, a semblance of a skull comes into play. You can recognize that the puzzle is a skull afterall. Another saving grace is that with the little 3-unit locking piece in place, none of the pieces will fall apart even when shaken hard.
As of this post, I have just finished design revision #14. A much improved design with re-shaping almost every piece. In fact its now been reduced to 24 pieces only. See the screen shot of the Burr Tools file shown here. In theory at least, the whole puzzle is better reinforced and supported and should not shake and rattle so much if the tolerances are improved. I will go for a second prototype. Have to explain to the fabricator how the pieces are supposed to work (they have no idea what the pieces are for!). Hope this one will turn out better.