From Wil Strijbos?
I think a wooden puzzle coming from Wil Strijbos would be usually somewhat of a surprise. Most puzzlers know Wil Strijbos as a designer of challenging, high quality (and some rather expensive) puzzles made of metal!  Well, don't let the title of this post fool you. This wooden puzzle from Wil was actually his Exchange Puzzle during IPP37 in Paris last August. And this wooden puzzle was designed by someone else. This is not to say that Wil has never designed wooden ones. He has many years ago, and one of them called Just Fit (The Cut) also happen to win  the 1990 Hikimi Puzzle Competition for wooden puzzle designs.
Back to the puzzle. This interlocking burr goes by the  name of Framed Sticks 4U and is designed by a Mr Gong. Now I have never met Mr Gong, but I understand he is a close friend of Wil and resides in China. Mr Gong has designed a number of wooden burr puzzles (made out of bamboo) which have been sold by Wil in the past several years through Wil's distribution email list.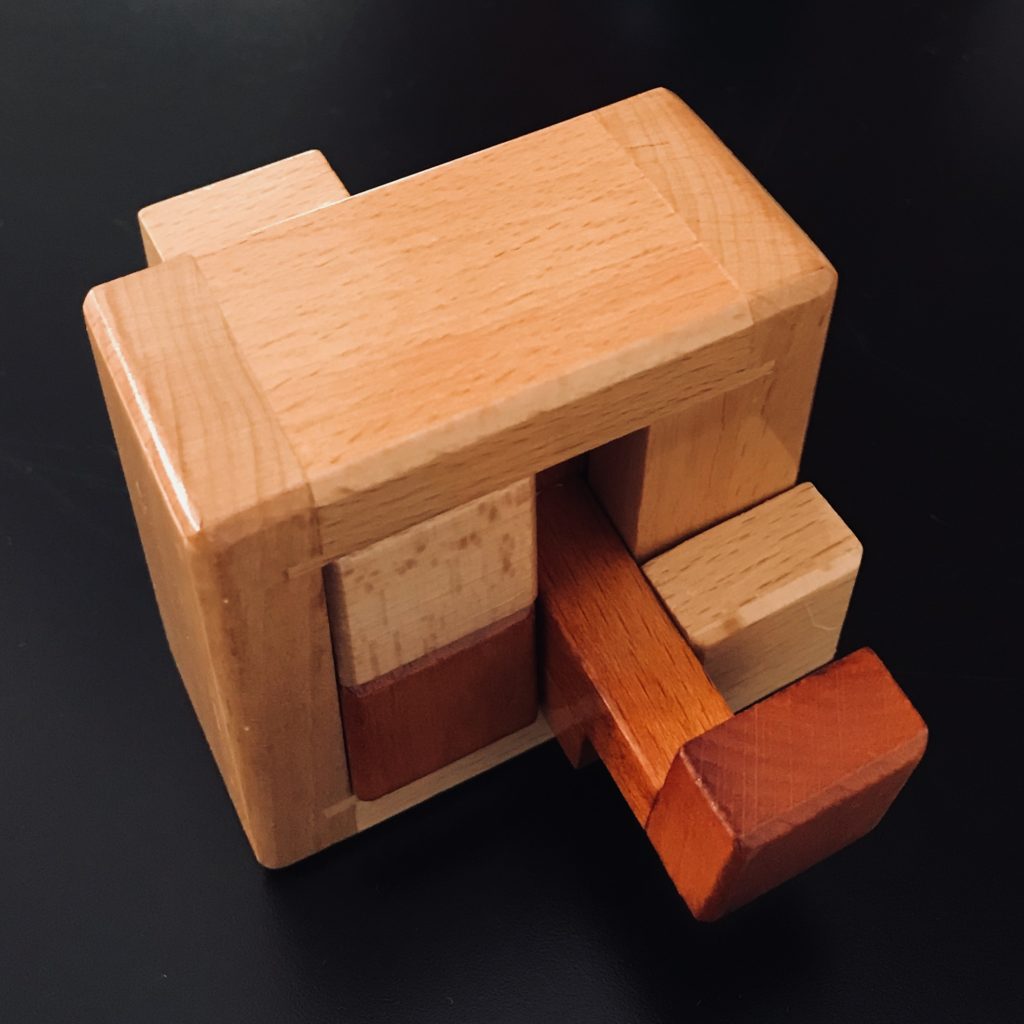 design & construction
The FS4U is a 6 x 6 x 5 solid. It is an interlocking framed burr consisting of a square frame and 4 typical burr pieces (sticks) with the usual type of notches. Nothing overly unusual. The frame (box) spots a couple of obstructions glued to the insides which restrict the movements of the pieces and thus brings the level of difficulty of the puzzle to a Level 24 solution. This means that it takes 24 moves to remove the first piece. And a total of 30 moves to disassemble the entire puzzle.  I checked Mr Gong's design against other 6 x 6 x 5 size puzzles on PWPB and I didn't find any which were similar in design or number of pieces. Only one other design had a similar shape. So Mr Gong's design appears to be very different from the rest.
The FS4U is made of two different woods but as to the exact species I don't know. The burr sticks consist of two pairs with dark and light colours to give the puzzle some colour contrast. Construction and fit is good. Although the copy here is not the kind of very impeccable standard that one would get from the usual few North American or European puzzle craftsmen.  Everything worked properly and the sticks slid smoothly. No issues. The puzzle is produced under Wil's Streetwise Inc brand, the same company that manufactures all of Wil's metal puzzles. Size wise, it is about 7.5cm x 7.5cm x 6cm and surprisingly quite heavy in the hand, so the woods used  must probably be some exotic wood.
The puzzle has a shiny finishing to the external surface, as if coated with some form of vanish covering, which seems rather unusual since.  Most wooden puzzles would have some form of (tung) oil rubbed into the wood to smoothen,  nourish and preserve the wood But this is my first wooden puzzle I have with such a smooth and shiny surface.
SOLVING & PLAY
At Level 24.2.2.2, the FS4U is not easy. The disassembly took me a while to get the hang off, given there are some dead ends during the solve at the beginning. But because you can see the movement of the sticks from both the top and bottom openings of the frame, it is not as difficult as other similarly high level burrs. At some point I was able to figure out the moves to remove the first piece. Once that came out, the rest just popped out of the frame. Re-assembly was a different thing altogether! Despite my best efforts to remember the moves (and even photographing the process, because I know burrs like these are quite beyond me), I still had to resort to the provided solution sheet. Thankfully I was also further aided by Burr Tools, which helped me get all the pieces back to their proper places.