When I first saw this puzzle,  I didn't know what OMPIC meant. Well, I had seen Allard Walker talk about the puzzle on his blog a while back and thanks to him, I found out that it means One Minute Puzzle In Cube.
OMPIC was James Dalgety's IPP37 Exchange Puzzle. I have met James during the past IPPs and also corresponded with him on occasions. His Exchange Puzzles have always been rather interesting, intriguing and challenging. Take for example his past exchange puzzles that I have played with; the Perplexing Palace Puzzle and Dot Box. Incidentally the Dot Box also won the Jury First Prize in the IPP35 Puzzle Design Competition. And for those interested to learn more about puzzles, their history and classification, James Dalgety also runs the Puzzle Museum, a private collection of tens of thousands of puzzles, which started in 1886.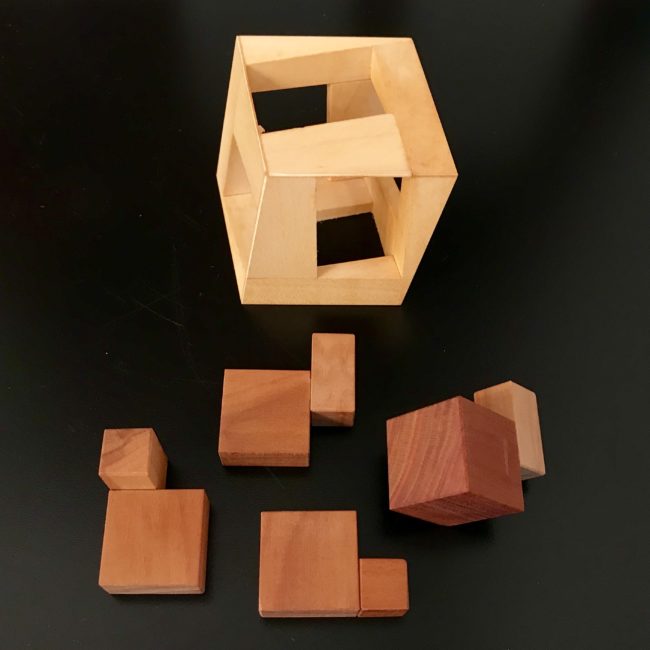 REALLY A ONE MINUTE PUZZLE?
First off, the OMPIC looks very much like a hollow cube that has been pressed from all three sides.  It looks bent and squashed! Yes, it was intended this way. The OMPIC was produced for James by Vaclav Obsivac of Vinco puzzles. Made of two types of wood, the puzzle measures about 5cm all round. Construction, fit and finish is very good. And during play there was no jamming of the pieces even tho the tolerances were cut quite tightly.
GETTING THE CUBE INSIDE
The goal is to first "build" a cube with the four odd-shaped pieces inside the squashed hollow cube/cage. Can it be done in a minute? Well, I am sure some expert puzzlers could, but I certainly coudn't. In fact I took about 8-9 minutes to solve the thing! To get the cube into the cage, one needs to know how to first form a regular cube. Now this already took a couple of minutes alone.
The next challenge is of course to remember the orientation of the pieces and then figure out how to insert each of the pieces into the cage. The cut-outs on each of the sides of the cage are identical rectangular shaped. They do (intentionally) pose an obstruction to the entry of some pieces and a certain order of movements is needed.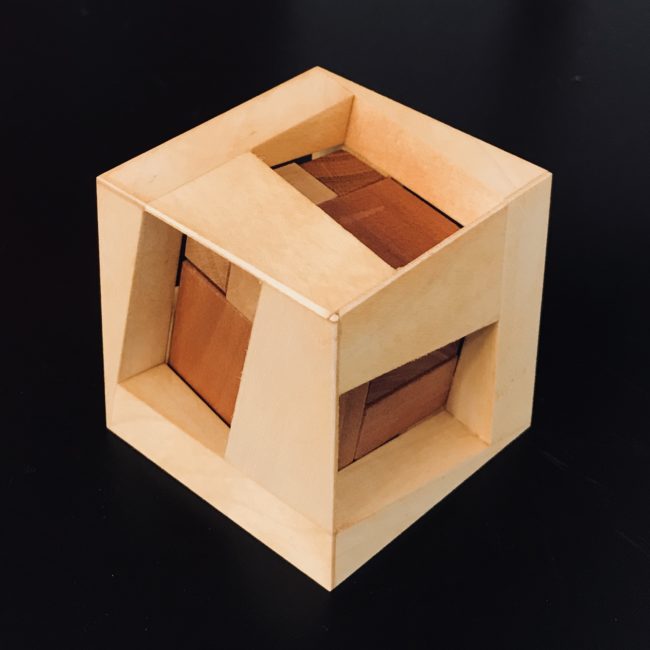 Initially I tried the usual random sort of thing and of course that got me nowhere. Some thinking is required. Given there are only four pieces, the logic and steps and what needs to be done while challenging, are not overly difficult. Some of the pieces can only go inside the cage in a certain way. And one needs to make sure the last piece can be inserted without hindrance. The question is -How?
The OMPIC is an interesting and fun puzzle to solve and it has IMHO just about the right level of difficulty. Not to mention the puzzle displays very nicely and even comes with its own ring support which holds it at the correct (tilted) angle.