Heblo was Patrick Major's IPP37 Exchange puzzle. If you are familiar with wooden puzzles, Heblo has all the typical hallmarks of a Vinco puzzle- with all the nice smooth curves and exotic looking colourful woods. Yes, it was designed and made by Vinco (aka Vaclav Obsivac, from the Czech Republic) who also sells a wide variety of other interlocking burrs, co-ordination and packing puzzles on his online puzzle store called Vin & Co.  This one will be another addition to my very modest collection of Vinco puzzles.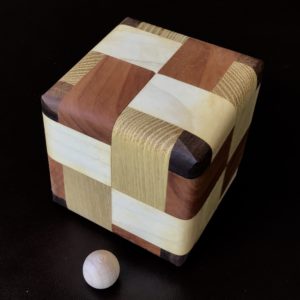 Without a doubt, Heblo is very well crafted and from what I can tell, consists of various hardwoods including cherry, maple, oak and walnut. Quality and construction is top-notch here and the contrasting woods really bring out the "shine" of this puzzle. The cube measures 6.8cm all round with curved edges and a nice woody smell to it. 
The object is to remove a small ball residing inside. You can hear it rolling about in some void within. My first thought was that it is an interlocking burr of sorts. Well, there was really no other way to begin solving except by pushing and pulling at the cube itself. But just to make sure that pieces were not compressed together due to the high Singaporean humidity, I left it in my dry box for a good half a day before play.
After a rather unexpected and surprising solve, I got the ball out. Rather too quickly too I might add.  But then again, if it had been harder like a mid-level interlocking burr, who knows? I may not have been able to solve it. But once you are able to find the opening move, its pretty easy. Unfortunately, I can't show the solved state here as it will be a dead giveaway. From a puzzling standpoint, not at all difficult but from an aesthetics point of view, a beautifully made puzzle for display.