This has got to be one of the most colourful and "pretty" packing puzzles around. The YACP was Rik van Grol's IPP37 Exchange Puzzle in Paris last year. With a name like that, I can only assume that he had a previous Clover Puzzle. And it must have been exchanged before 2014, the year I started participating in the IPP Puzzle Exchange. Both the design and manufacture of the YACP is Rik's handiwork. I have so far only played with two of Rik's designs, including his exchange puzzle at IPP35, which he named Bin Laden Too. For those of you who may be interested, Rik is also the current interim President of Nederlandse Kubus Club (Dutch Cubists Club) founded in 1981. The NKC publishes a a thrice yearly subscription-based newsletter Cubism For Fun (CFF) which contains articles (some very scholarly) on all manner of things to do with puzzles.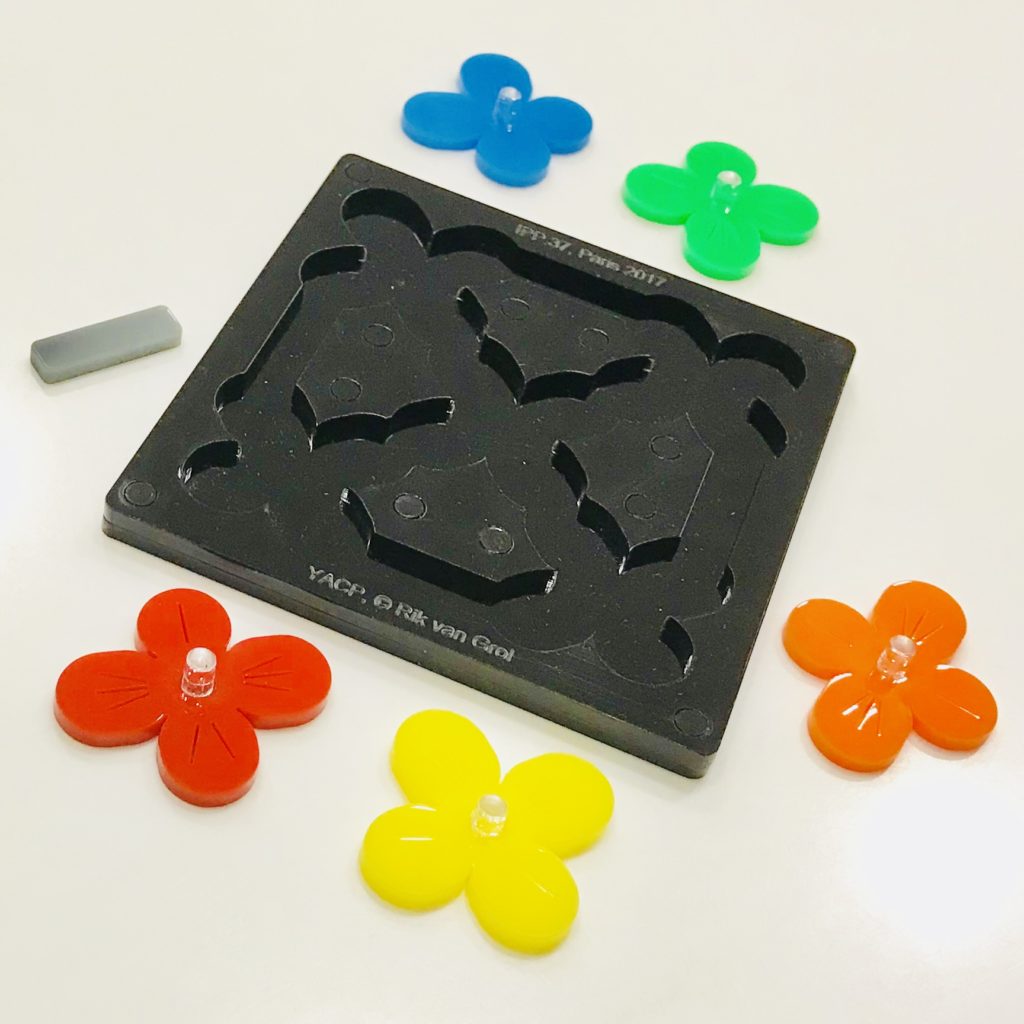 Design-wise, the YACP is pretty far removed from the usual 2D packing puzzles with its whimsical shaped pieces and the non-use of the linear style we puzzlers are so accustomed to. The YACP consists of a black tray about 9.5cm square with five clovers of different colours as well as a small gray rectangular piece. All acrylic laser cut to exacting standards. Quality of construction, fit and finish is excellent and each of the clovers have a small knob attached for easy handling. Aesthetically the YCAP is pleasing to the eye with the clovers adorning bright colours.  And I must say, having played with the YACP for the good part of an hour, the tolerances between the pieces is very tight indeed.
The object of the YACP is to place the five clovers flat in the tray AND also fit the rectangular piece inside a channel on one of the sides. The tray contains cutouts for each of the clovers, all of which look deceptively similar but with very subtle differences. I wonder if Rik had used some form of software to design this puzzle because those little differences meant I had a number of misses; everything would all fit in nicely including the rectangular piece but the last clover would just not fit into its slot.
One can randomly try all the possible combinations (which I would imagine run into the hundreds) of clovers and rectangle and with persistence, time and luck, eventually arrive at the solution.  This obviously could take a very long time, without the hint of the solution in sight. However, I would suggest that with a bit of logical thinking and experimenting, one can eliminate certain possibilities in terms of the placement of the clovers and solve the puzzle much sooner. At least that's how I managed to solve the YACP in about 40 minutes.